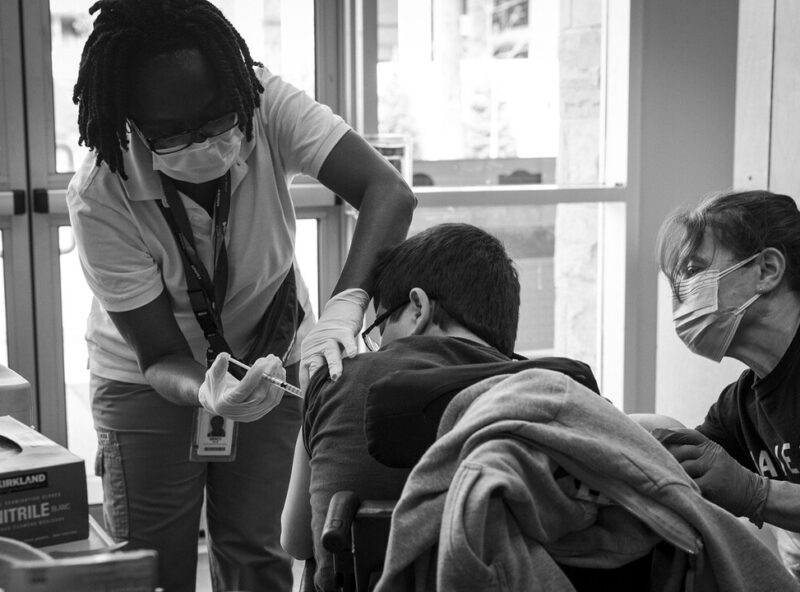 Many individuals are anxious to receive their booster or third dose of the COVID-19 vaccination. For most of us, this involves booking an appointment online or over the phone, followed by a trip to a local clinic, community centre or pharmacy. For those living with disabilities, this isn't such a simple task.
Individuals living with disabilities, with their increased risk of health complications, are a vulnerable population given their 
extremely high risk of severe illness and potential death from COVID-19
; and at times, require extra accommodation for vaccine access. These individuals may have pre-existing medical conditions, a limited ability to physically distance, require full support, personal care and/or continuous supervision, or have an intolerance for unfamiliar or noisy surroundings.
We know that many of our 
Luso
 participants do not fully understand the impact of COVID upon their daily activities and those that are unable to wear a mask, due to a disability, further expose themselves, their caregivers, immediate family and others through their daily interactions.
This month, 
Luso
 wants to host an accessible booster clinic to accommodate vaccine access and reduce anxiety for participants with special needs and their caregivers. 
At mobile vaccine clinics held last year
, with the support of 
Humber River Hospital
's Mobile Vaccination Team, we saw the incredible value of a warm, welcoming environment, staffed with familiar faces; and the amazing support provided by health professionals who are trained and empathetic to those with special needs. Yet, more of this is needed in our community, especially for those who are homebound or require accessible transit. Access to essential care, such as vaccines and even regular medical appointments, still presents many barriers for those living with disabilities. It was through our organization's persistence, diligence and advocacy work that we found a proactive partner in the community to get vaccine clinics at Luso. This was not easy to arrange, and it should not be that difficult to do this moving forward. Accessibility for those living with disabilities should be automatic.
So, what can YOU do to ensure individuals with disabilities aren't left behind?
Look out for barriers and advocate for accessible-friendly and inclusive venues with trained staff who can help disabled individuals successfully receive needed services and support.
Reach out to community members, provide and share information and resources.
Advise your local MPP that this issue of priority access is important to you, and to ensure that individuals living with disabilities or those without a voice have easy access to vaccinations and other services ongoing.
Accessibility is more than physical or communication barriers or attitudes, but rather a complex combination of many. Communities should be as accessible and inclusive, with the key component being ease of access. To learn more about providing accessibility, visit WeCapable's article on 
Accessibility: Definition, Meaning, Examples and Types of Barriers
.
For more information about Luso or how to get involved and advocate for individuals living with disabilities, browse our website and share this article onward.
Originally published on January 10, 2022 by Heather Grand, CEO of Luso Canadian Charitable Society. Click here to view the article on LinkedIn.
Photo Credit: (Evan Mitsui/CBC)