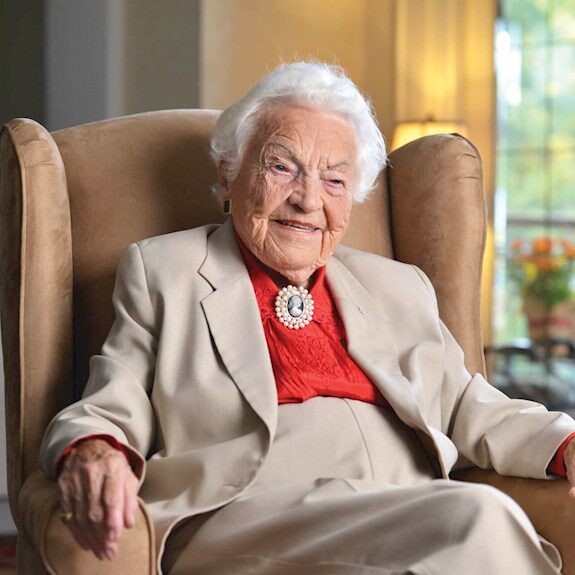 It is with great sadness we mourn the loss of our dear and special friend Hazel McCallion. The Luso Canadian Charitable Society expresses its sincere condolences to the family and friends of Hazel, and the community she served.
Hazel was a true legend. Her legacy of leadership and social commitment is well known in Canada and internationally. Driven by a strong sense of civic duty and dedication for social issues, "Hurricane" Hazel was an example of sheer vitality, hard work, resilience, commitment and community responsibility.
Always an advocate for worthy causes and supporter of vulnerable members of society, her commitment was unwavering for individuals living with special needs. Over the past many years, Hazel supported us in extraordinary ways, with her advocacy for our mission and passion for those with physical and/or developmental disabilities.
Hazel's energy and commitment to the moment, always incorporated a sense of humour and a remarkable ability for delivering speeches that challenged everyone to be better than they are.
One of our favourite memories took place at our 13th Annual Gala Dinner. During the live auction segment, Hazel lived up to her nickname "Hurricane". Unexpectedly – and very energetically – she grabbed the mic, joined Luso President, Jack Prazeres on stage and encouraged the audience to participate generously in the auction.
She was tireless in her support of our fundraising events, such as Volta Charities or Golf. Displaying incredible energy, on many occasions she often took centre stage and spoke with passion about community needs. We are particularly proud of having held the 2021 Volta event in honour of her 100th birthday.
Our dear friend Hazel McCallion was a generous and caring individual committed to a stronger and more inclusive community.
We honour her legacy and contribution to society. She has been an incredible advocate and supporter of the Luso Canadian Charitable Society and our participants, and will be missed by all. Our thoughts and prayers are with the McCallion family.
Rest in Peace, dear friend. We will miss you, Hazel.